Thank god for chicken soup, especially of the homemade variety.  If it weren't for chicken soup, I would have very little that I could eat right now.  You may have noticed my absence from posting over the past week.  No, I haven't been kidnapped by killer bees or held hostage until I figured out a way to neatly fold a stack of fitted sheets.  Both of those would have been preferable to the resurgence of the evil, deadly, no good, terrible, awful, downright nasty stomach bug.  It is this stomach bug that has caused my week of silence and almost worse than that: has me sentenced to two weeks of broth and the BRAT diet.  This, of course, means lots of chicken noodle soup.
Unfortunately, me being the picky person that I am, I really dislike most canned chicken soup.  A LOT.  The chunks of "chicken" in them gross me out.  A LOT.  Yuck, yuck, yuck!  I can't even think about it.
Now of course, the problem is when you are sick and needing to eat soup, who feels like making the homemade version?  Not even me, and I love to cook.
Problem solved with Semi Homemade Chicken Soup.  All you need is a grocery store rotisserie chicken, 2 boxes of chicken broth, a bag of shredded carrots, some precut celery and rice.  Preparing it takes five minutes.  Cooking it takes about 10.  And ladies, this recipe is so easy.  It is so easy that if you are under the weather, you could easily get even the most kitchen hating man to throw this together.
Even better, this soup is a great comfort food meal when you are not sick and it is pretty budget friendly as well.  One pot of this soup costs less than 10 dollars to make and will feed my hubs and I for 3 nights.
And it's really good.  Almost good enough to get a case of sniffles for.
Ingredients
1 rotisserie chicken (I just used the white meat because I am not a fan of dark)
1 cup of shredded carrots
1 cup of precut celery
1/2 cup of rice
1/2 cup of pastina (I used the stars because I needed it to look cheerful)
1 cup of frozen kale (optional)
8 cups of chicken broth
2 tbs of poultry seasoning
1 bay leaf
salt and pepper to taste
1 tsp olive oil
How to Make:
Heat a teaspoon of olive oil in a large soup pot over medium heat.
Add 1 cup of precut celery and 1 cup of shredded carrots.  Add the bayleaf, poultry seasoning, salt and pepper and saute over medium heat for 3-5 minutes.
Remove the skin and shred the breast of the rotisserie chicken with a fork.  Add all of the breast meat to the pot with the veggies.  (If you like dark meat, feel free to add some of this, but I don't care for it so I left it out.)
Add your chicken stock to the pot and add in your pastina and your rice.  Bring to a simmer and allow to simmer for 10-15 minutes or until the rice is cooked.
About 2 minutes prior to serving, add your frozen kale.
Serve and enjoy.
There you have it: the easiest soup ever.  It reheats well, too, so you can make a big pot when you are sick and have it the whole time.  Since the soup will thicken as it sits in the fridge, just add a couple of cups of broth to it when you reheat.
Just an aside:  I know you might be wondering where Tuesday Tea Party went this week and last week.  Starting next week, I will double up for two weeks and bring you Tuesday and Thursday Tea Parties.  In the mean time, go make yourself some of these excellent scones.
Shared with: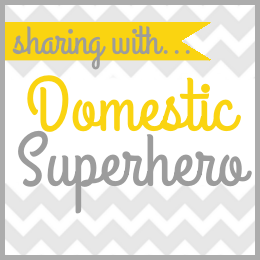 ~~~~~~~~~~~~~~~~~~~~~~~~~~~~~~~~~~~~~~~~~~~~~~~~~~~~~~~~~~~~~~~~~~~~~~~~~~~~~~~~~~~~~~~~~~~~~~~~~~~~~~~~~~~~~~~~~~~~~~~~~~~~~~~~~~~~~~~~~~~~~~~~~~~~~~~~~~~~~~~~~~~~~~~~~~~~~~~~~~~~~~~~~~~~~~~~~~~~~~~~~~~~~~~~~~~~~~~~~
Subscribe to my blog!